Sometimes you just need to trust the experts
At Bud's Mufflers, we are experts at what we do. If
you need a new catalytic converter, a custom exhaust, or help after a failed emissions test we are proud to be your Denver muffler shop
. We think it is always important to go to the experts in the field. When a journalist and race fan questioned Neil deGrasse Tyson's claims on race physics we thought he made a pretty good case, but when Tyson replied back with a detailed explanation of his calculations we feel pretty confident that his claims hold up. It is always great to see a friendly dialogue in the pursuit of knowledge.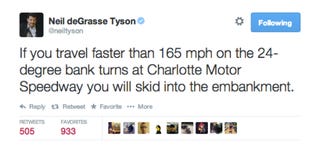 When an episode of Neil deGrasse Tyson's (frankly excellent) Cosmos gets postponed for the NASCAR Coca-Cola 600 race, Neil deGrasse Tyson got revenge the only way he knew how – by dropping knowledge. But one of those tweets might have been just a bit wrong.
Before we continue, let me give a little disclaimer. I am not a physicist in any way, shape, or form. Dr. Neil deGrasse Tyson very much is. I'm just a journalist, and also a race fan.
And by and large, Tyson's breakdown of racing physics doesn't seem that far off to me, the layperson. But in his series of tweets about racing, a few stood out as not making much sense.
Check out the full exchange here.